-V3 TURBO UPGRADE (Flow-56LB per min)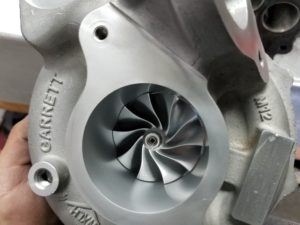 Simply put, the biggest turbo upgrade available utilizing the latest CNC, point-milling process. Each compressor wheel is milled with a swept blade design for low drag, meaning the 10-blade design will get the best spool possible out of the 52mm x 72mm wheel without sacrificing performance. The turbine housing is fully ported to remove the horrible casting restrictions allowing the high-flow turbine shaft to flow well at every RPM range. The factory Garrett turbo housings are retained to insure a factory fit while also keeping a stock look. Because of our included port and polishing and use of the Garrett housings, we have been known to have the best usable torque for a FA turbo this size.
V3 UPGRADE, starting at $760 and it includes machining and full porting and polishing!
CERAMIC COATING $30 comes in black, silver or ugly green or gold
TURBOSMART WGA, 7-psi $180 or 14PSI $200.
Note: The stock wastegate actuator is not recommended for high boost applications. It can restrict PSI potential and only make 20ish PSI