-V3 TURBO UPGRADE (Flow-56LB per min)
NOTE: Stock wastegate actuators can restrict PSI potential. Please upgrade to the appropriate wastegate actuator as recommended by your tuner.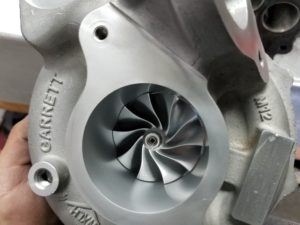 Simply put, the biggest turbo upgrade available utilizing the latest CNC, point-milling process. Each compressor wheel is milled with a swept blade design for low drag, meaning the 10-blade design will get the best spool possible out of the 52mm x 72mm wheel without sacrificing performance. The turbine housing is fully ported to remove the horrible casting restrictions allowing the high-flow turbine shaft to flow well at every RPM range. The factory Garrett turbo housings are retained to insure a factory fit while also keeping a stock look. Because of our included port and polishing and use of the Garrett housings, we have been known to have the best usable torque for a FA turbo this size.
V3 UPGRADE, $875 and it includes machining, recontour, clipping, rebuild, and full porting and polishing!
CERAMIC COATING, starts $45 comes. Colors offered based on application. We offer blue titanium, thermal gray, blue flame, black, silver, burnt bronze or gold.
TURBOSMART WGA, 7psi $200 and 14psi $220 (prices subject to change).
Note: The stock wastegate actuator is not recommended for high boost applications. It can restrict PSI potential and only make 20ish PSI